Rebate Fulfillment Customized
Rebate Fulfillment campaigns are customized to your unique needs by Dare Marketing. Dare has executed many successful rebate fulfillment campaigns.
Boost sales by providing a unique rebate offer
Store and ship a physical item to customers
Cutting edge technology
Unlimited staff to execute your project
Retailers, manufacturers and distributors rely on Dare Marketing, a complete order fulfillment house, for quality rebate fulfillment.
Warehouse your rebate product or literature offer, verify requests, fulfill orders and update your database. All under one roof.  Flawless execution.
Payment processing is an easy part of your rebate fulfillment campaign when outsourcing to Dare Marketing.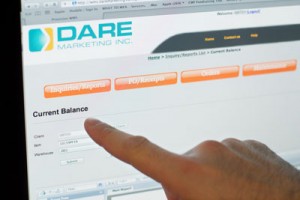 Dare Marketing can manage it all on paper with mail-in forms or we can help you capture the power of the Internet with a web-based rebate fulfillment management system. In either case, you can count on prompt rebate fulfillment, timely reports and access to your data via a secure internet web page.
Front-end assembly and distribution of offers
Prompt verification and fulfillment of rebate offer
Financial transactions on your behalf

today and let us help you design a custom rebate fulfillment program that will help you drive sales.
If you are interested in Rebate Fulfillment, you may also be interested in: