Rebate Fulfillment Processing Grows Sales
Rebate Fulfillment Processing: Whether your product is a new entry to market or at the mature stage of its life cycle, a great way to boost sales, introduce customers to other products and collect market data is to offer a rebate. Fulfillment of that rebate, however, can involve too many details for the average company. That's why many choose to outsource rebate fulfillment processing.
Rebates vs. other POS options
As a marketer, you want to encourage the consumer to pick your product over that of a competitor at the point-of-sale (POS). There are two basic strategies to achieve this. You can develop a complex program involving manufacturing, packaging, shipping and special displays or, you can use the straight forward rebate:
Rebates are relatively simple to implement: A rebate basically requires promotional material and rebate fulfillment processing that can be outsourced.
Rebates deliver customer information: You can learn who your customers are, where they're located and more. But a warning. Don't make rebate processing onerous for your customer or you may undo your program's benefits.
Design your rebate program for success
Step one is to define your objectives. Do you want to drive sales, gather market information or introduce consumers to a new product? This will determine the type of rebate that you offer. Then: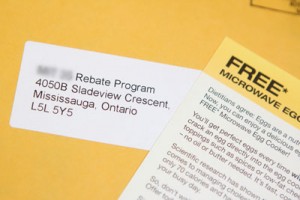 Design the rebate for consumer appeal.
Determine what your retailer needs for success.
Develop the systems: from retailer support to rebate processing and rebate fulfillment.
Design communications materials for success every step of the way.
Rebate fulfillment processing is time consuming and can distract you from more important, strategic functions. You need a rebate fulfillment outsourcing partner who attends to the details of your campaign carefully and communicates effectively.
Focus on what you do best: marketing program design. And let rebate fulfillment processing professionals take care of the rest.

Contact Dare Marketing for help processing your next rebate fulfillment project.