Variable Data Printing is Great for:
Variable data printing is used for printing personalized addresses or marketing messages printed on:
Direct mail flyers
Postcards
Catalogs
Brochures
Letters
Dare Offers their clients:
Variable data printing consultation
Personalized direct mail for individual customers
Better direct mail results with variable data printing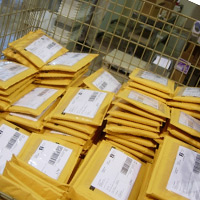 And because Dare provides end to end fulfillment services, we'll not only personalize with variable data printing, we can mail your items as well, making sure you get the best Canadian mailing rates possible.
Increase Profits and ROI by Personalizing Your Next Mailing Campaign with Variable Data Printing
Contact us today to and we'll show you how your variable data printing or personalized mail campaign is more effective than impersonal unaddressed mail.  Dare Marketing has cost effective variable data printing options designed and customized for you.  Call us or click below to book a free consultation.

Personalization Works!
Canada Post research shows that 84% of consumers will open a letter if their name is on the envelope!  Dare Marketing can help you execute this strategy by personalizing each letter or direct mail piece in our lettershop to ensure a maximum open rate.  More letters or direct mail pieces opened, means more conversions and a higher ROI for you.
Wondering how variable data printing can help with your next marketing campaign?
Read how you can Improve ROI with Variable Data Printing.
Direct marketing professionals increase results with direct mail that is personalized – inside and out. Dare's direct mail specialists will help you personalize your direct mail campaign to maximize impact.
If you are interested in Variable Data Printing, you may also be interested in: